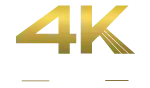 Choosing Your
Perfect 4K
Projectors
Top picks for movies, sports matches, streaming content, and the best budget 4K projectors!
Best 4K Projector for
Home Theater
Are you ready for true 4K with CinematicColorTM like you've never seen? Make your movie collection come alive with BenQ home cinema projector.
Best 4K Projector for
Watching Sports
Live Sports in 4K! Get more out of sports with the best projector that puts you in the action as if you are in the stadium.
Best 4K Projector for
Gaming
Only BenQ gaming projectors merge world-beating input lag with cinematic graphics and symphonic sound for unforgettable experiences.
Best Budget 4K
Projectors
Best-in-class 4K projector in the best selection. Invite your friends to watch shows, movies, and sports events, or join party games.
What do you need to know before building your 4K Home Theater System?
The top 7 tips to help you pick out the right 4K DLP projector. Check it!

BenQ true 4K 8.3 million pixels will give your home cinema lifelike image clarity that even many commercial cinemas can't match.

Wonders Come to Life with CinematicColor™. Images in true color can evoke feelings of sorrow, joy, romance, and excitement by color as the director envisioned.

Discerning eyes will appreciate the expanded dynamic range the HDR-PRO™ delivers, reproduce the realistic details of 4K content for unmatched viewing pleasure.
BenQ 4K Projectors
No.1 Worldwide
As the world's No.1 DLP projector brand, BenQ continues to dominate the #1 4K projector worldwide.