Effortless Communication: Smart IP USB Video Conferencing in Pakistan
Effortless Communication: Smart IP USB Video Conferencing in Pakistan
Utilizing USB video conferencing devices to link teams has become a prevailing practice in businesses worldwide. In reality, the surge in the remote work trend has experienced remarkable expansion, especially after Covid 19.
USB Video conferencing is a popular communication method connecting participants through live video and audio streams online utilizing high quality cameras, microphones and speakers along with popular video conferencing software such as Zoom, Skype, Webex or other. This communication method is now in use more than ever for all small and large business meetings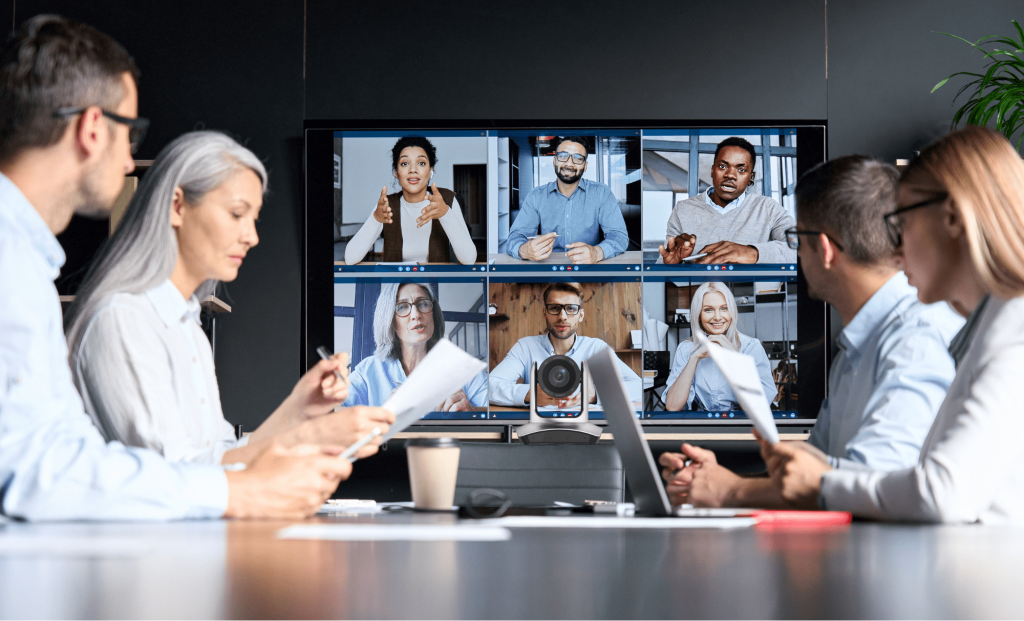 Smart IP USB Video Conferencing
provides countless benefits to all types and sizes of businesses in various sectors and industries. This post will discuss the benefits of usb video conferencing to highlight why it is a preference for entrepreneurs, small businesses, and successful corporations.
Let's first delve into the many benefits of USB video conferencing.
Benefits of Smart IP USB Video Conferencing Equipment
Hi-tech video conferencing hardware, used with feature-rich video conferencing software, guarantees a premium quality video conferencing experience. Businesses can streamline their communication channels by utilizing the latest audio and visual technologies, such as Smart IP 4K and Full HD PTZ Cameras, Voice Tracking Functionality, Smart Frame Feature, Artificial Intelligence Cameras, Daisy Chain Speaker Phones, and Full Duplex Microphone Array
Let's look at some of the critical benefits of the most popular video conferencing products and tools.
Virtual meetings utilizing USB video conferencing emerge as a winner when considering the expenses associated with a conventional face-to-face meeting or using point to points or multi-point codecs. Organizations set up conference/meeting rooms that require an extensive infrastructure for a large gathering or use high-end hardware codecs such as LifeSize and Polycom which is barely used.
Small businesses that don't have huge offices or budgets may need to book meeting rooms hourly or daily. These recurring costs add up to significant expenses.
Commuting to a conference is not only expensive, but it can also be demanding. Most participants will undoubtedly waste a lot of time that they could be using to complete critical tasks or get ready for a meeting. Even if the drive only takes 30 minutes, preparing for a meeting/conference can be challenging.
With 43% of US employees occasionally working remotely, and a similar trend taking up in Pakistan gradually, more businesses are looking for video conferencing solutions to engage with their remote forces. Companies can adopt these latest video conferencing solutions for connecting with their staff without relying on in-person meetings.
While conferences over the telephone can guarantee effective communication, video conferencing is a better solution in most cases. That's because it can allow participants to view each other's body language. Enough research data suggests that communication significantly relies on body language
Participants can view each other's body language when they communicate through video conferencing solutions online. That allows them to identify important personality traits in their employees, clients, or stakeholders, moreover facial expression, gestures and posture convey a lot of meaning which can be really beneficial to for correct decision making. Smart IP 4K and Full HD 1080p PTZ cameras do a great job when it comes to quality and clarity.
When attendees don't spend most of their time commuting to meetings, they save valuable time. That means they can utilize this saved time to get more work done. Ultimately, this effectively translates to better efficiency and improved productivity
According to
67% of the workforce,
having friendly coworkers makes work more engaging and fun. video conferencing enhances workplace interactions since it's a great approach to developing professional ties with clients and colleagues alike—especially for remote workers.
What Video Conferencing Products and Solutions Are Available?
A quick online search will likely include numerous video conferencing products and solutions.
But only some of them offer an entire package of features. Hence, choosing something that works for your conferencing needs is tricky. Essentially, Smart IP USB Video Conferencing is an affordable solution for many companies to boost productivity, connect in house employees with remote workers, and reduce costs
While the best video  conferencing products share many capabilities, buying the best one for your business or company is still challenging.
How to Buy the Best Video Conferencing Equipment?
Here are some tips and ideas to help you choose the Smart IP USB Video Conferencing equipment for your workplace.
Any business should compare their top choices based on their evaluation criteria. So, start narrowing down your options by creating a checklist. This list should include all the must-have features, support options, and pricing details.
Make sure you consider the most important features that should be present in the video conferencing system. The equipment you want to buy for your workers should also be user-friendly. That's especially important for a workforce that's not too tech-savvy.
And Google Search Look for reliable brands and suppliers from your niche's online directory. The best video conference hardware and software for every industry is different. The key is to look for guides that review all submissions manually. For example, many directories check for authentic brands and suppliers selling
Smart IP USB Video Conferencing 
products to prevent listing fraudulent companies.
Doing some research is another way to choose the best video conferencing tools. Check for the pros and cons of the product you are shortlisting. Once you decide on the video conference equipment you want to buy, don't forget to check its reviews and ratings.
Why Should Businesses in Pakistan Adopt USB Video Conferencing Solutions?
Many businesses in Pakistan operate from their offices, using video conferencing to communicate with coworkers or clients worldwide.
video conferencing is now a norm in our organizations. Nearly 78% of corporates use video conference software to engage their remote and in-house employees.
Users can join a video conference at home or coffee shop.
But most businesses in Pakistan need to remember that a high-quality video conference requires more than just a laptop and software. That's especially true if you are conducting a video conference with an individual or a group.
Whether an entrepreneur or a business owner in Pakistan, you must invest in the tools that make communication easier
Providing Quality Video Conferencing Equipment in Pakistan: K.B.Sarkar & Co.
Smart IP USB video conferencing Equipment offers excellent opportunities for video conferencing in huddled spaces or large conference rooms. Users may start and conduct a video conference meeting with the help of hi-tech, plug N play solutions. With Smart IP USB Video Conferencing, you can enjoy pixel perfect clear video and audio from any workspace, including your office, home, or hot desks.
We are a leading distributor and dealer of products for Smart IP USB Video Conferencing in Pakistan.
K.B. Sarkar & Co.
has been in the industry since 1935. With multiple offices in different locations in the country and our own service center, we proudly offer the latest and the best video conferencing solutions for all businesses. Our technical team provides round-the-clock technical assistance to all our customers.
Our conferencing clientele includes 1000+ companies and businesses. We offervideo conferencing solutions, including:
Our Smart IP USB video conferencing systems are easy to operate and work with most web and cloud based conferencing programs. These include Microsoft Teams, Zoom, Google Meet, and Skype for Business. Launching your cloud conference applications takes only a minute. You can initiate a video conference as soon as you connect the USB cable.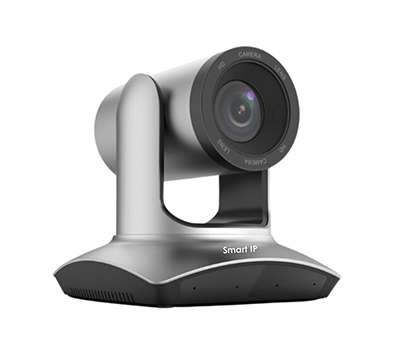 This PTZ cameras uses pan, tilt, and zoom functionality to offer wide-area and complete coverage. The fabulous 2.0 million pixels camera guarantees that everyone in the room can come into view. The 10 meters' voice pickup and 4 digital microphones array make the conversation smooth and convenient. This camera has voice tracking technology and it will auto rotate towards the person speaking.
Here are some notable features of this popular product.
The 4K PTZ camera system is an excellent choice for conducting a video conference from anywhere. It is compatible with Microsoft Teams, Zoom, Skype for Business, etc
If you are looking for an easy plug-and-play solution that doesn't require any driver or software for setup, this one is an excellent choice. It is popular since it is compatible with most popular meeting software such as MS Teams and Skype.
Let's delve into some of the features of this product.
Pan-Tilt-Zoom or PTZ cameras are among the mostviable options for video conferencing today. These cameras guarantee high image quality in all kinds of conditions. A PTZ camera doesn't compress the image. It transmits it to the video conferencing terminal without any delay. In addition, this type of camera comes with a rotary device, which allows it to aim the camera in the speaker's direction.
Their high cost may be the only drawback of PTZ cameras, nevertheless in the long run it's still a cheaper yet viable option than Point to Point or Multipoint video conferencing solution. Moreover, improving your communication system and overcoming communication obstacles is a one-time investment. Generally, a special control panel with a joystick or remote control controls a PTZ camera. These devices can have certain pre-programmed positions on which they can focus. They may also have directional microphones for automatically zooming on the speaker.
Growing Demand for Smart IP USB Video Conferencing Products at K.B.Sarkar & Co.
K.B. Sarkar & Co.
provides sophisticated communication solutions for every business. Our premium-quality video conferencing solutions make communication clear and free of interruptions.
We understand that communication is the key to success for every business. We provide high-quality products for Smart IP USB Video Conferencing in Pakistan to businesses, schools, entrepreneurs, etc.
Some video conferencing system includes components built on hardware codecs configured and placed in your conference room. That includes remote controls, multipoint interfaces, cameras, and speakers.
Online meetings are now crucial for collaboration. Our video conferencing equipment is beneficial for both small and medium  businesses. These hi-tech devices help bridge the communication gap between employees or departments of the same organization.
video conferencing makes it possible for different organizations and businesses to connect. Thus, it leads to an increase in the development of unique video conferencing apps and cameras
K.B. Sarkar & Co is the go-to place if you want to know more about transforming your company's internal and external communication.
Contact us today
to buy the best solutions for Smart IP USB Video Conferencing in Pakistan. Your employees will benefit from reduced commuting costs, improved communication, and faster completion of projects.